Fiberglass Chopped Strand Mat Powder binder
Product Detail
Product Tags
E-Glass Powder Chopped Strand Mat is made of randomly distributed chopped strands held together by a powder binder.It is compatible with UP, VE, EP, PF resins.The roll width ranges from 50mm to 3300mm.
Product Features
● Fast breakdown in styrene
● High tensile strength, allowing for use in hand lay-up process to produce large-area parts
● Good wet-through and fast wet-out in resins, rapid air lease
● Superior acid corrosion resistance
Application
Its end-use applications include boats, bath equipment, automotive parts, chemical corrosion resistant pipes, tanks, cooling towers and building components



Additional demands on wet-out and decomposition time may be available upon request. It is designed for use in hand lay-up, filament winding,  compression molding and continuous laminating processes.
Product Specifications
Property

Area Weight

Moisture Content

Size Content

Breakage Strength

Width

(%)

(%)

(%)

(N)

(mm)

Property

IS03374

ISO3344

ISO1887

ISO3342

50-3300

EMC80P

±7.5

≤0.20

8-12

≥40

EMC100P

≥40

EMC120P

≥50

EMC150P

4-8

≥50

EMC180P

≥60

EMC200P

≥60

EMC225P

≥60

EMC300P

3-4

≥90

EMC450P

≥120

EMC600P

≥150

EMC900P

≥200
Special specification can be produce according to customer requirements.
Mat Production Process
Assembled rovings are chopped to a specified length, and then fall onto a conveyor randomly.
The chopped strands are bonded together by either an emulsion binder or a powder binder.
After drying, cooling and winding, a chopped stand mat is formed.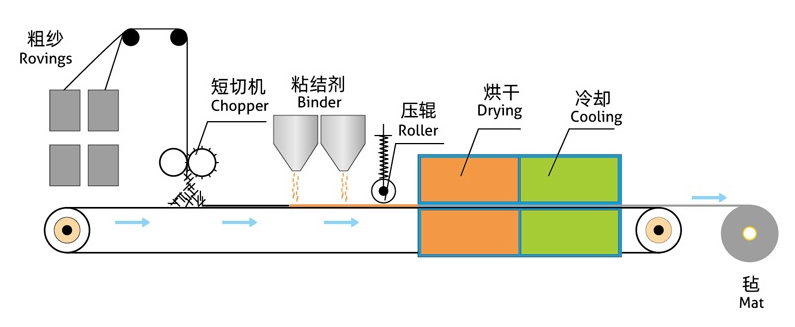 Packaging
Each Chopped Strand Mat is wound onto a paper tube which has an inside diameter of 76mm and the mat roll has a diameter of 275mm. The mat roll is wrapped up with plastic film,and then packed in a cardboard box or wrapped up with kraft paper. The rolls can be vertically or horizontally placed. For transportation, the rolls can be loaded into a cantainer directly or on pallets.
Storage
Unless otherwise specified, Chopped Strand Mat should be stored in a dry, cool and rain-proof area. It is recommended that the room temperature and humidity should be always maintained at 15℃~35℃ and 35%~65% respectively.

---
Previous:
Biaxial Fabric 0°90°
Next:
Fiberglass Woven Roving
---
Write your message here and send it to us