Active Carbon Fiber Fabric
Product Detail
Product Tags
Active Carbon Fiber Fabric, another name is activated carbon cloth, adopt the macromolecule material to make the good activated carbon powder organically integrated with non-woven cloth, it can not only adsorb the organic chemistry substance, but also can filtrate the ash in air, having the characteristics of stable dimension, low air resistance and high absorption ability.
Feature
●High specific surface area
●High strength
●Small pore
●Large electric capacity
●Small air resistance
●Not easy to pulverize and lay
●Long service life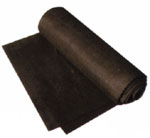 Activated carbon fiber cloth has the characteristics of high specific surface area, small pore, large capacitance, small air resistance, high strength, not easy to pulverize and lay, long service life, etc. It has been widely used in the production of military supercapacitors with good results.
Application
It's mainly used in the safety respirator, hospital, industry, bag, environmental protection and indoor decorated wallpaper, the purification of water and oil as well.
Specification
| | |
| --- | --- |
| Specific surface area | 500m2/g-3000m2/g |
| Width | 500-1400 mm |
| Thickness | 0.3-1 mm |
| Gram weight | 50-300g/ |
---
Previous:
Basalt Fibers
Next:
3D Inside Core
---
Write your message here and send it to us