Triaxial Fabric Transverse Trixial(+45°90°-45°)
Product Detail
Product Tags
Triaxial Series Transverse Triaxial (+45°/ 90°/ -45°)
At most three layers of roving can be stitched,
however a layer of chopped strands(0g/㎡-500g/㎡)
or composite materials can be added.
The maximal width can be 100 inches.
Structure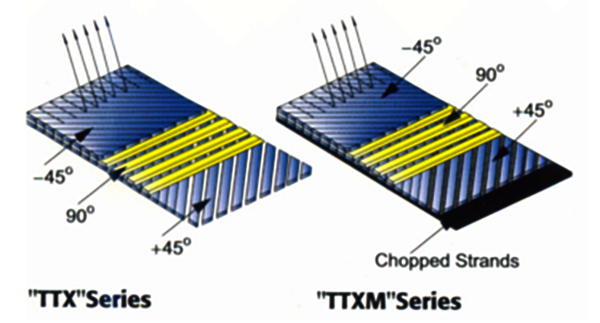 Application
Transverse triaxial combo mat is used in blades of wind power turbines, boat manufacturing and sports advices.


Product List
| | | | | | | |
| --- | --- | --- | --- | --- | --- | --- |
| Product No | Overall density | +45°roving density | 90°roving density | -45°roving density | Chop density | Polyester yarn density |
| | (g/m2) | (g/m2) | (g/m2) | (g/m2) | (g/m2) | (g/m2) |
| BH-TTX700 | 707.23 | 250.55 | 200.78 | 250.55 | | 5.35 |
| BH-TTX800 | 813.01 | 400.88 | 5.9 | 400.88 | | 5.35 |
| BH-TTX1200 | 1212.23 | 400.88 | 405.12 | 400.88 | | 5.35 |
| BH-TTXM1460/101 | 1566.38 | 424.26 | 607.95 | 424.26 | 101.56 | 8.35 |
---
Previous:
Quataxial(0°+45°90°-45°)
---
Write your message here and send it to us