What kind of material is aramid paper? What are its performance characteristics?
Aramid paper is a special new type of paper-based material made of pure aramid fibers, with high mechanical strength, high temperature resistance, flame retardant, chemical resistance and good electrical insulation and other excellent properties, is an indispensable high-performance material for a wide range of applications such as aerospace, rail transportation, new energy vehicles, electrical insulation and other fields. Our main products can be categorized into two main categories according to their applications: paper for electrical insulation and paper for honeycomb core.
Aramid paper honeycomb structure material has lightweight, high strength, high modulus, flame retardant, high temperature resistance, low dielectric loss and other excellent characteristics, has become the preferred core material for honeycomb composite materials in the aerospace field.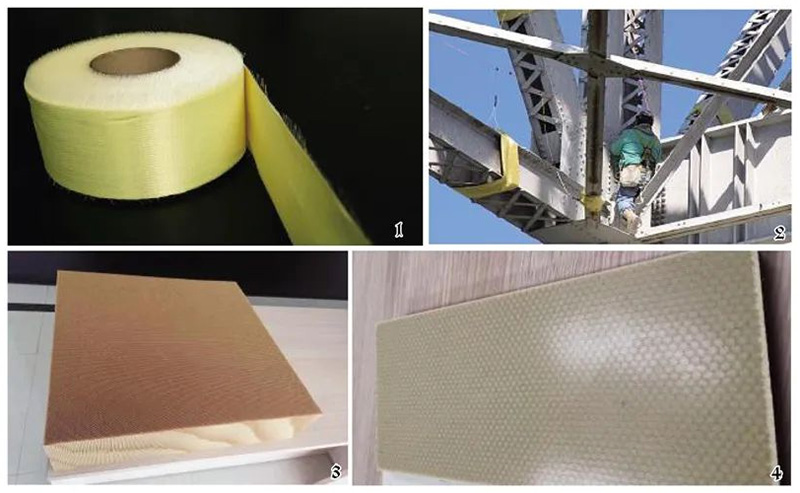 1. Aramid unidirectional fabric;             2. Aramid unidirectional fabric in bridge reinforcement;
3. Aramid paper honeycomb;                    4. Aramid paper honeycomb composite panel;
Aramid paper honeycomb in urban and rural construction, rail transit, transportation and water conservancy can have what specific applications?
Aramid paper is a high-performance insulating material, which can be used in high-end insulation systems for complex working conditions. In urban and rural construction, it can be used as insulating material for electronics, electric motors, extra-high voltage, electric power transformers and distribution transformers; in rail transportation, it can be used in high-speed railways, freight locomotives with traction transformers, traction motors, magnetic levitation linear motors, insulating materials and high-speed railroad interiors, and weight reduction materials, etc.; in the aerospace industry, it can be used in commercial aircraft interiors, secondary load-bearing materials, and other materials. In aerospace, it can be used in commercial aircraft interior parts, sub-bearing parts, etc. The use of aramid paper as the interior parts and structural parts of large aircraft will reach a very objective quantity every year; in transportation and water conservancy, it can be used in large-scale water conservancy generators, traditional automobile starter generators, and new energy automobile drive motors.
Aramid paper honeycomb in the noise reduction, heat insulation performance also has a good performance, the future, as a green building, energy-saving construction of new materials, in the construction field can also have more application space.
---
Post time: Sep-26-2023